Your D&I strategy will help you translate your D&I policy from vision into strategic goals. Then you will define the initiatives and programs needed to achieve these goals in order to deliver practical outcomes.
DCA's strategic process for D&I is based on our research and consultation with DCA members about what works to develop and implement D&I programs and initiatives that have real results.
Change at Work is an evidence-based model of D&I organisational change, which empirical research indicates will enable organisations to more effectively achieve D&I outcomes in the workplace.
Change at Work sets out four steps to follow when implementing D&I changes.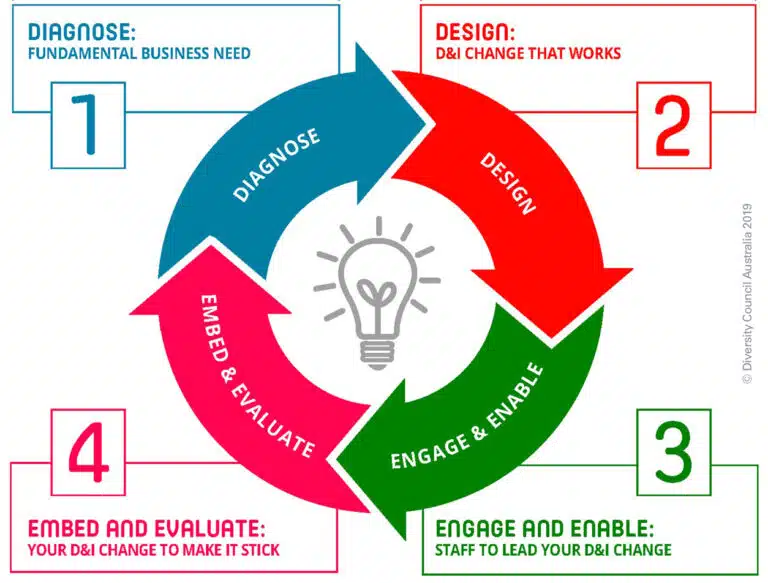 DCA members can login to access more information and resources on how to apply the Change at Work Model to creating a strategy or program.
Want to Use Our Model?
Where you wish to refer to our Change at Work Model publicly, it must be correctly attributed to DCA.
Formal attribution to DCA is required where references to this definition are in a written format.
Citing DCA as a source will suffice where the reference is made in a verbal format.
The suggested citation for this definition is:
Diversity Council Australia, Change at Work Model, Sydney, Diversity Council Australia, 2019.
The rest of this content is restricted to DCA members.
To find out more about joining DCA please see below.
If your organisation has already signed up for membership, this will activate as soon as payment is received.