As little as a decade ago, Diversity, Equity and Inclusion (DEI) had not been formalised as a legitimate business objective. 
Today, DEI consulting is a burgeoning industry, likely because organisations are now more aware of the benefits a diverse workforce can bring. And so, based on the number of people currently employed in this industry, it seems the DEI officer role, dedicated to the improvement of organisational diversity, is flourishing.  
An issue with rapidly emerging fields and job titles, however, is the career path is undetermined and industry regulation is often negligible. Diversity Atlas recently published a research paper to look into this gap in knowledge and find out more about the people who now fill assorted DEI roles.  
The roles themselves deserve looking into. Job titles and descriptions vary greatly from organisation to organisation and many of these roles are consultative or brought in to fix individual issues, while others are voluntary – drawn from other departments, usually human resources, to 'fix' the organisation from within.
A lack of regulation and consistency with all things from duties, to pay grades and ideological approaches, have led to significant issues within the field, including widespread burnout when the idealistic goals of DEI don't hold up to the pragmatic aspects of the corporate world. 
Diversity Atlas' study sourced data from responses to a questionnaire (22 responders) and looked at 1,000 LinkedIn profiles of Australian DEI officers to uncover background information and fill some of the gaps in knowledge we have about DEI professionals, their jobs, and career trajectories.  
The study uncovered the following key insights: 
On average, practitioners spent just over two years in a single DEI job and had just over two DEI jobs throughout their careers, totalling an average 4.22 years in the DEI industry. Similar results were observed across hierarchical levels. 
The practitioners were concentrated in Victoria and New South Wales due to their higher populations. However, Queensland, despite also being a more populous state, showed a considerable lack of DEI practitioners.
Professionals from Victoria had shorter tenure in their roles than their counterparts in South Australia and Tasmania.  

Most practitioners held managerial and individual contributor positions, while only a few held entry-level roles.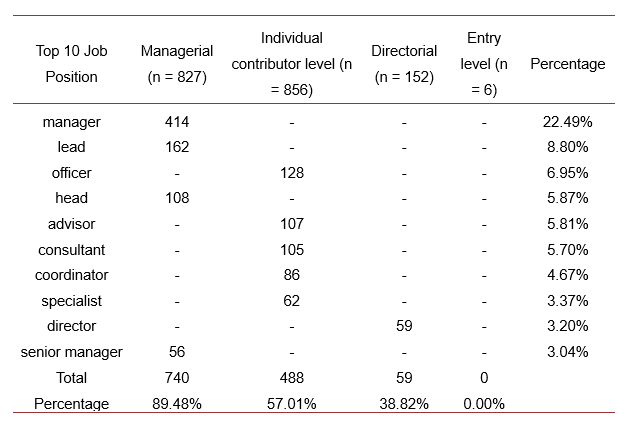 The public administration/government sector offered the highest number of DEI job opportunities, followed by education and financial services.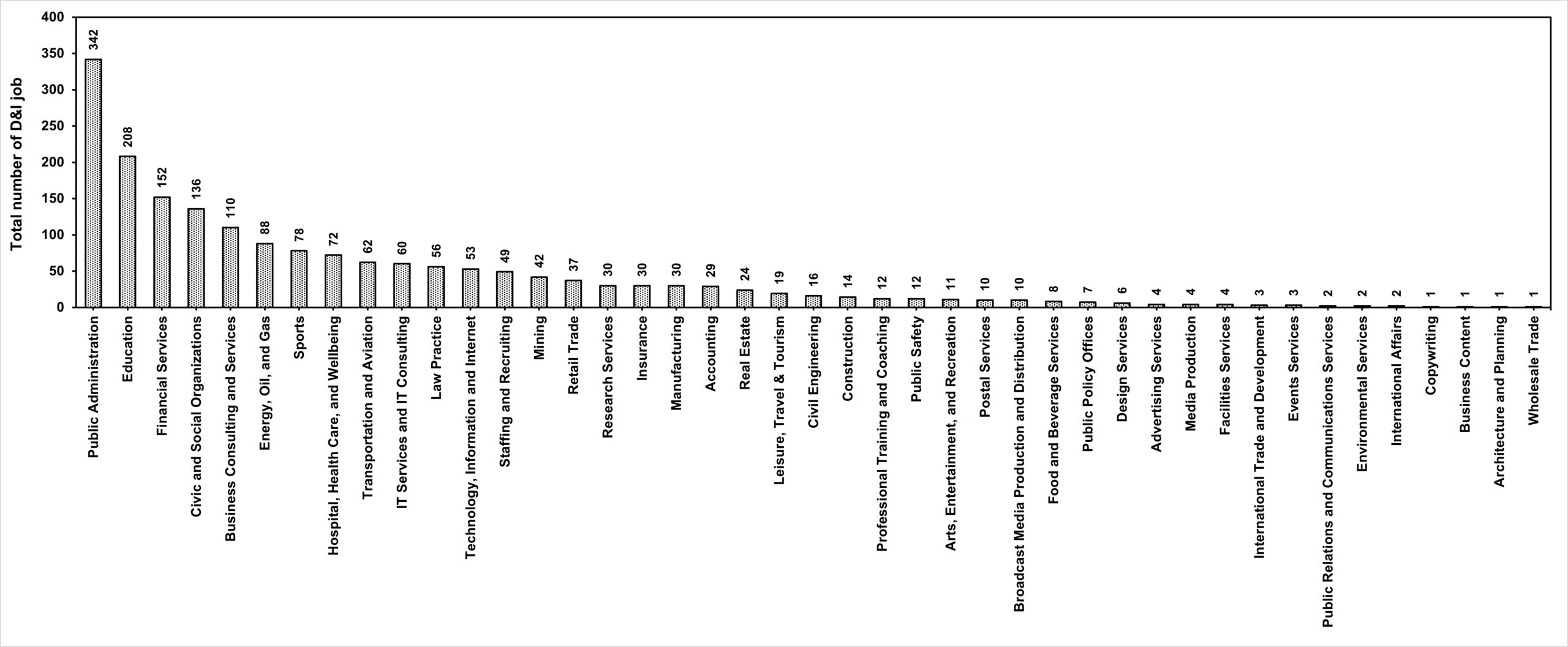 DEI job titles lack standardisation, with almost two-fifths presenting as unique. "Diversity" and "Inclusion" are the most used terms. The study also revealed specialised titles related to categories like disability and LGBTIQ+. 
The industry was female-dominated across all levels (82.51% female to 17.49% male and 0% non-binary), with both represented genders typically spending fewer than 3 years in the industry and about 10% spending longer than 10 years.
The gender distribution remained quite constant regardless of time spent in the industry. The largest gender gap appeared at managerial level.
The primary source of DEI practitioners was from the human resources sector, with frequent transitions between DEI and human resource roles.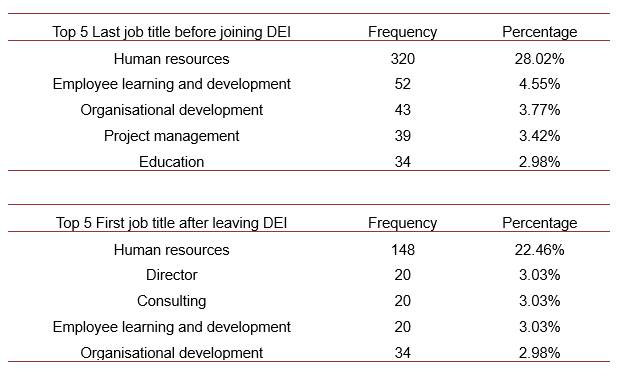 Reason for leaving the DEI industry
Nearly half the participants had experienced burnout and were lacking the tools to do their job satisfactorily, and about one-third of them were looking for a more financially secure job and thought there was a lack of career growth in DEI. 
The Diversity Atlas study illuminates the transient nature of DEI roles, as well as the female dominance in these roles, the concentration of practitioners in Victoria and New South Wales, the predominance of managerial and individual contributor positions and the intertwining of the field with human resources.  
The lack of longevity in this field and tendency of organisations to treat DEI as an 'add-on' present serious issues that will hamper a company's progress in this space. The study points to the desirability of increased industry-wide standards and regulation. 
Nicole Lee is the chief Data Analyst at Diversity Atlas. She received a Master of Information Systems from the University of Melbourne, a Master of Science, Information and Preservation from the University of Glasgow and a Bachelor of Arts, Anthropology from the Chinese University of Hong Kong.
Rezza Moieni is the Chief Technology Officer of Cultural Infusion. His data-driven methodology around measuring diversity underpins Diversity Atlas, the world's simplest and most sophisticated diversity and equity tool, which has been deployed in 30+ countries across the world.
Peter Mousaferiadis is the Founder and CEO of Cultural Infusion and an internationally recognised thought leader of culture as a driver of peace and innovation.