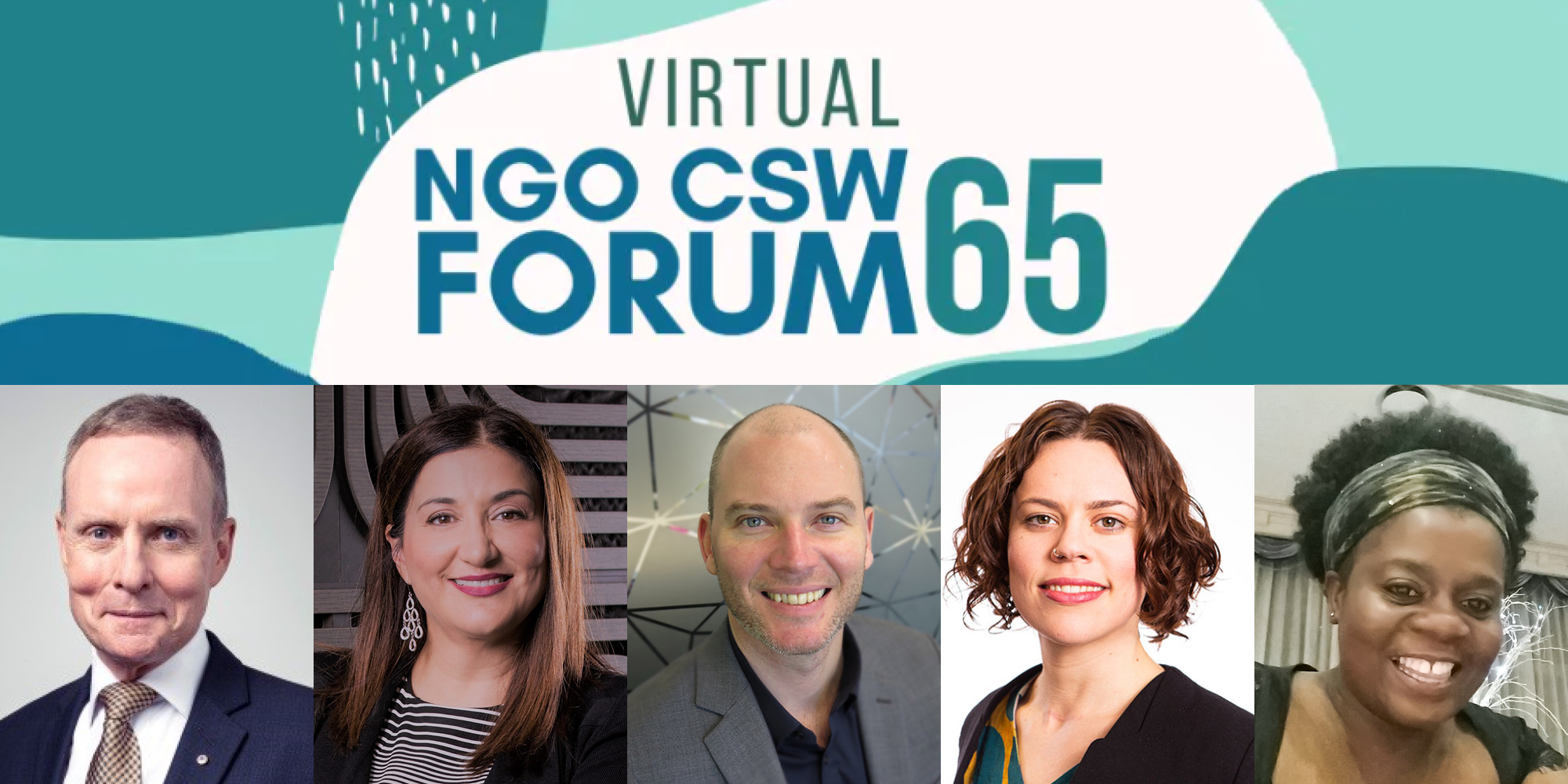 This year the 65th Session of the United Nations Commission on the Status of Women (CSW65) was held virtually from 14-26 March 2021 instead of in person in New York. Alongside the 65th Session, NGO CSW/NY facilitates a platform for the voices and leadership of feminists and women's rights organisations globally who lobby for their inclusion in the UN deliberations in pursuit of gender equality.
DCA felt incredibly privileged to host one of the NGO CSW/NY parallel events associated with the forum where we explored DCA's Myth Busting Domestic Violence at Work guidelines, produced in conjunction with Our Watch.
DCA CEO Lisa Annese presented the findings from the guidelines and outlined the common myths and misconceptions about domestic and family violence and work.
David Morrison AO, Chair of the DCA Board and past Board Director of Our Watch moderated a discussion with our guest panel about the impact of domestic and family violence on workplace health and safety, the cost to business, the imperatives to address gender inequality in the workplace and the unique role that business can play in prevention.
Our panel included:
Cara Gleeson, Director Practice Leadership, Our Watch
Ryan Burke, Head of Inclusion & Diversity at Commonwealth Bank
Dr Virginia Mapedzahama, Principal Consultant at Dune Health and Wellbeing
Lisa Annese, Chief Executive Officer, Diversity Council Australia.
DCA research & resources supporting this topic:
Watch the event recording via Vimeo
Family and Domestic Violence – https://www.dca.org.au/topics/family-domestic-violence
DCA webinar event – Looks at domestic violence through an intersection lens
DCA webinar event – Understanding and responding to domestic violence during COVID-19
Related resources:
Our Watch – Changing the Picture: A national resource to support the prevention of violence against Aboriginal and Torres Strait Islander women and their children
Our Watch – Find tools and resources to support staff experiencing violence during the COVID-19 pandemic
Our Watch – Change the Story: A shared framework for the primary prevention of violence against women and their children in Australia
Our Watch – Doing nothing does harm
Our Watch – Your workplace can help create an Australia where women are safe, equal and valued
ANROWS – Australias National Research Organisation for Womens Safety Limited
ANROWS – Crossing the line: Lived experience of sexual violence among trans women of colour from culturally and linguistically diverse (CALD) backgrounds in Australia
ANROWS – Promoting community-led responses to violence against immigrant and refugee women in metropolitan and regional Australia
CommBank Next Chapter – Independence for survivors of domestic and financial abuse
Can Work be Safe When Home Isn't – Initial Findings of a Pan-Canadian Survey on Domestic Violence and the Workplace
Male Champions of Change – Employees who use domestic & family violence: A workplace response
1800RESPECT – National SDFV Service Directory
1800RESPECT – Supporting someone experiencing domestic and family violence