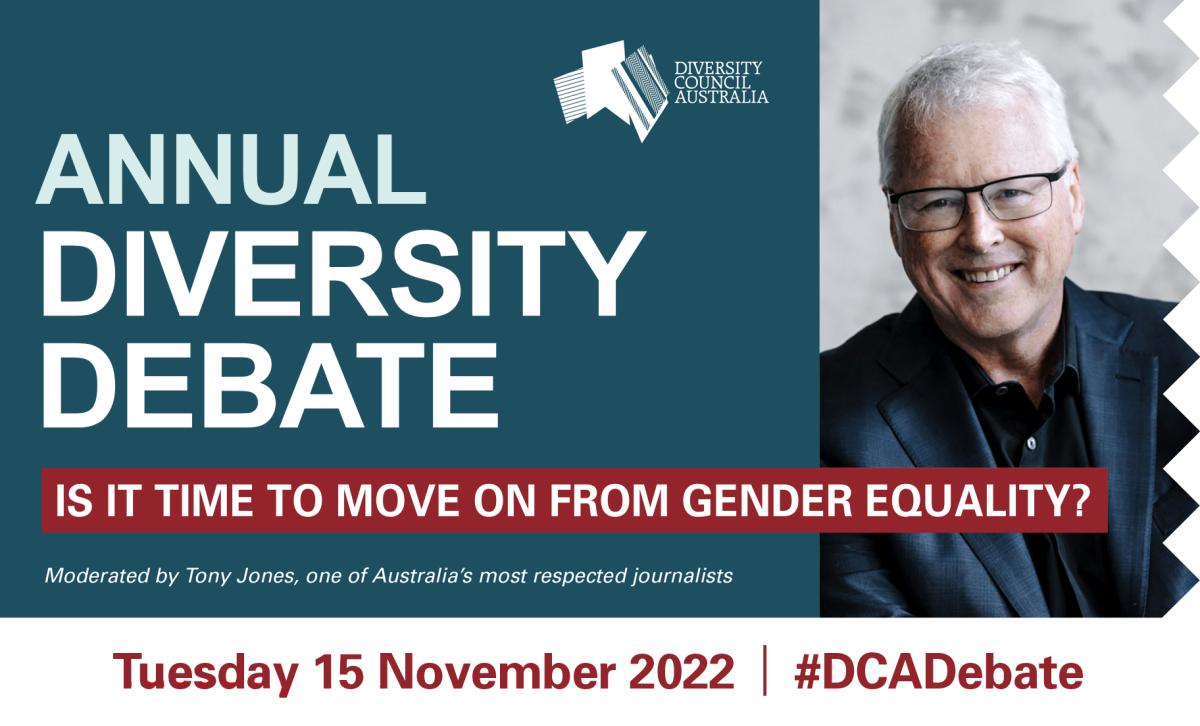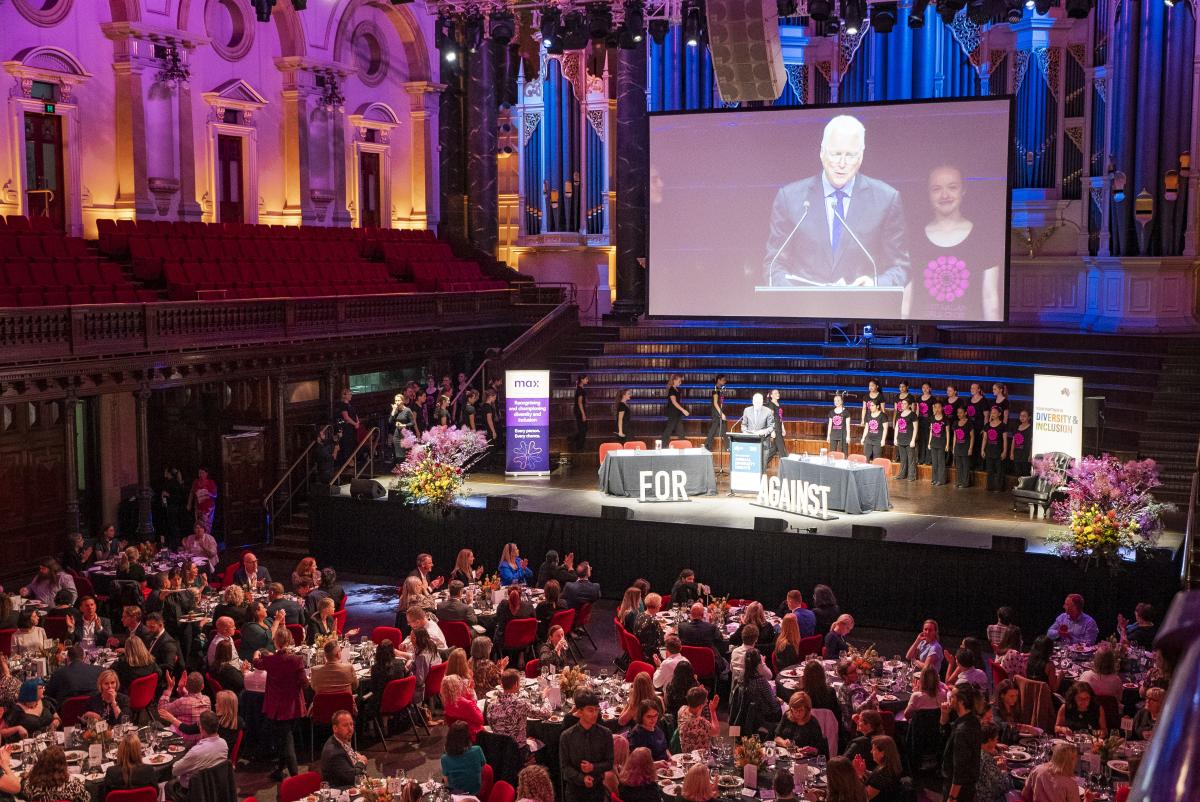 Four-hundred people packed the Sydney Town Hall for the tenth annual DCA Diversity Debate, presented by DCA and major sponsor MAX.
The Debate saw two teams delve into the topic, 'Is it time to move on from gender equality?'.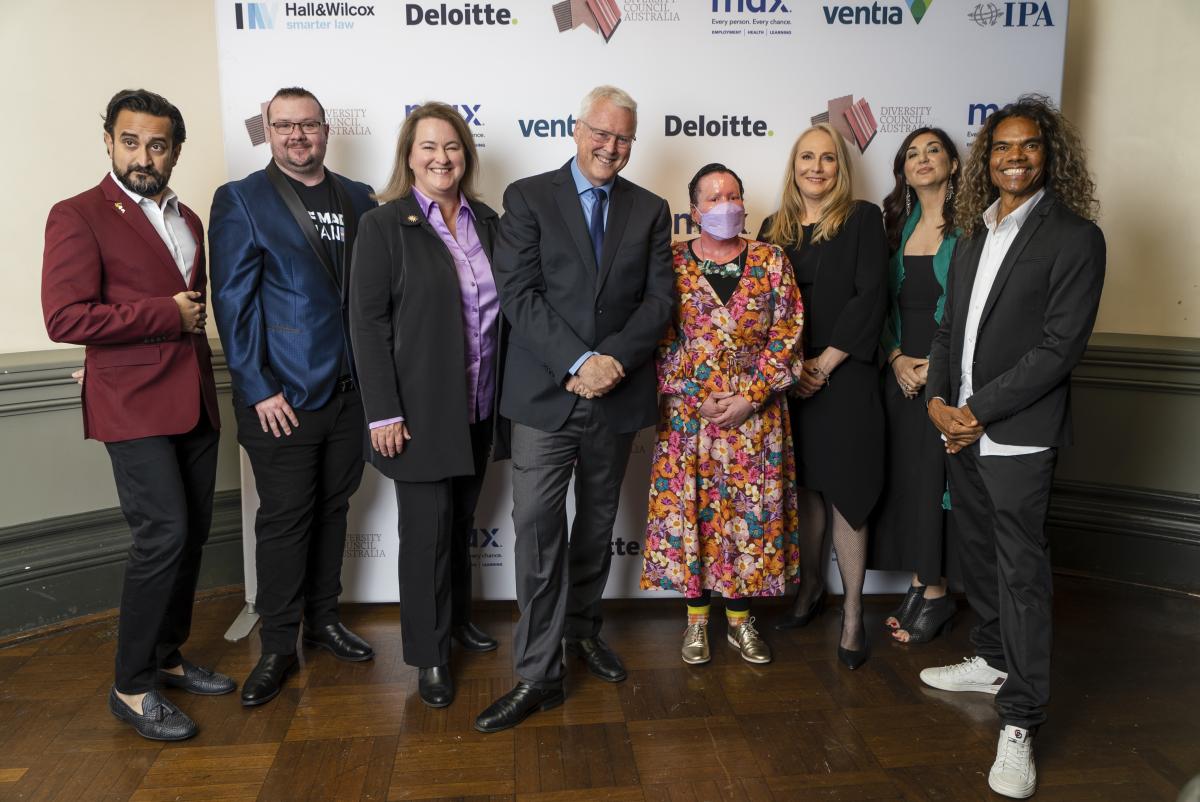 The affirmative team put their position, it's time to move on from gender equality, because if we are not ensuring equality for everyone, it's not equality at all.
The negative team argued that, far from time to move on, it is time to double down on gender equality, by making sure we take a far broader approach to how we think about it.
Before long it became clear that this Debate would find common ground that there was more to do to achieve gender equality but there would be no equality unless the approach we take to gender is much more inclusive.
Moderated masterfully across the evening by Tony Jones, teams unpicked intersectionality, inclusion and personal experiences of the speakers provided insightful examples about where we have come on gender equality, where we need to go and who has been left out.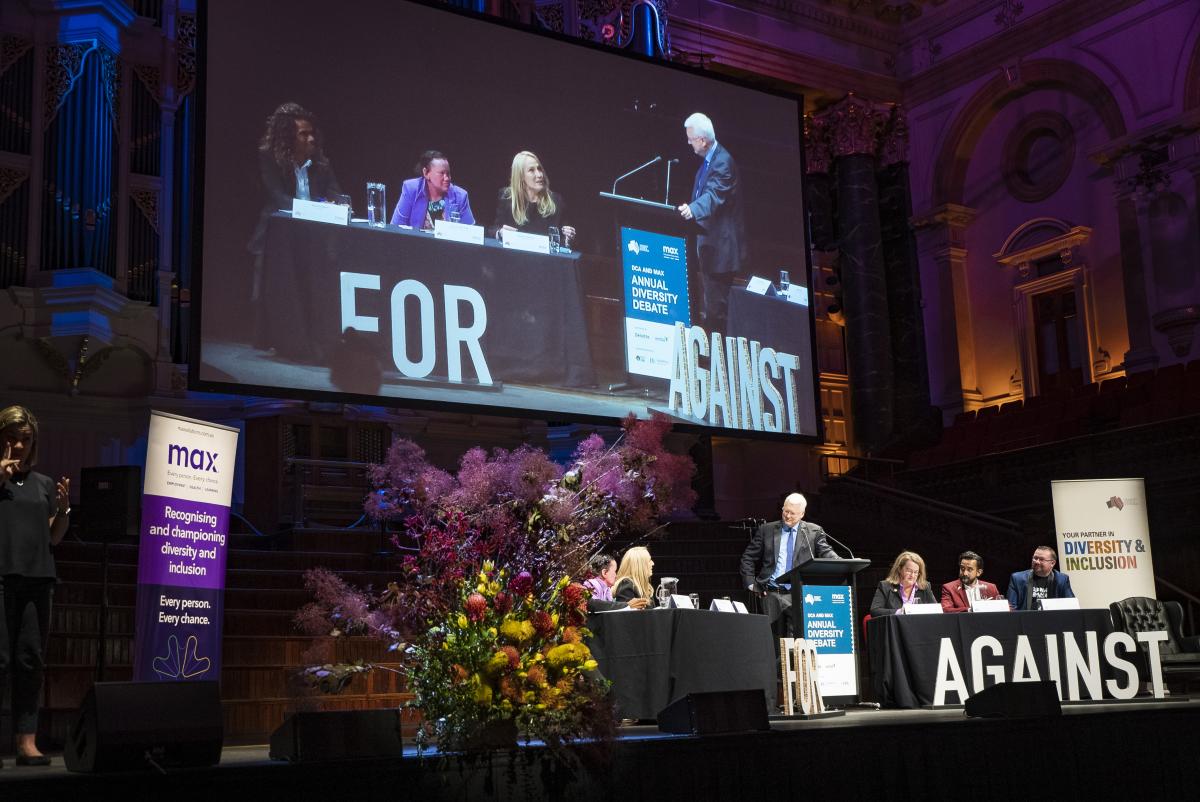 For the Affirmative

Deborah Homewood, Managing Director, MAX and first speaker for the affirmative team said:
'We don't have time to get one thing fixed before we move on to the next – who decides who gets the next seat on the diversity bus? We can't move away, we can't give up, we have to have a more mature, more caring and ethical approach to diversity and inclusion'.
Carly Findlay OAM, Writer, Speaker and Appearance Activist and second speaker for the affirmative said:
'Women's rights have progressed but striving for gender equality is not enough. If your feminism is not intersectional, it is not inclusive and we are missing important voices and ignoring important issues. The gains we make must be for all, not just for some. Focusing on gender alone is inadequate.'
Sean Choolburra, Comedian and final speaker for the affirmative said:
'You don't need to go to university to realise that gender is NOT the only diversity!'
For the Negative

Mary Wooldridge, Director, Workplace Gender Equality Agency and first speaker for the negative said:
'Gender equality encompasses all people – including those who experience intersecting forms of discrimination and disadvantage. It is inclusive, not exclusive. And the gender equality we are talking about is that people of all genders can enjoy the same opportunities.'
Sami Shah, Writer, Comedian, Journalist and second speaker for the negative, said:
'The idea that anyone could even start to think that gender equality is now a settled and sorted issue isn't just hilarious, it's downright wrong. My arguments won't waste time proving gender equality is still an issue, because you don't need to prove obvious truths. Instead, I will ridicule and belittle anyone and everyone who tries to prove otherwise.'
Zac Cannell, Therapist, Trainer and Activist and third speaker for the negative team said:
'I am proud to say I am a self-made man, and when people see me today, I am on the top of the patriarchal food chain until people find out I am trans – and then all that goes out the window.'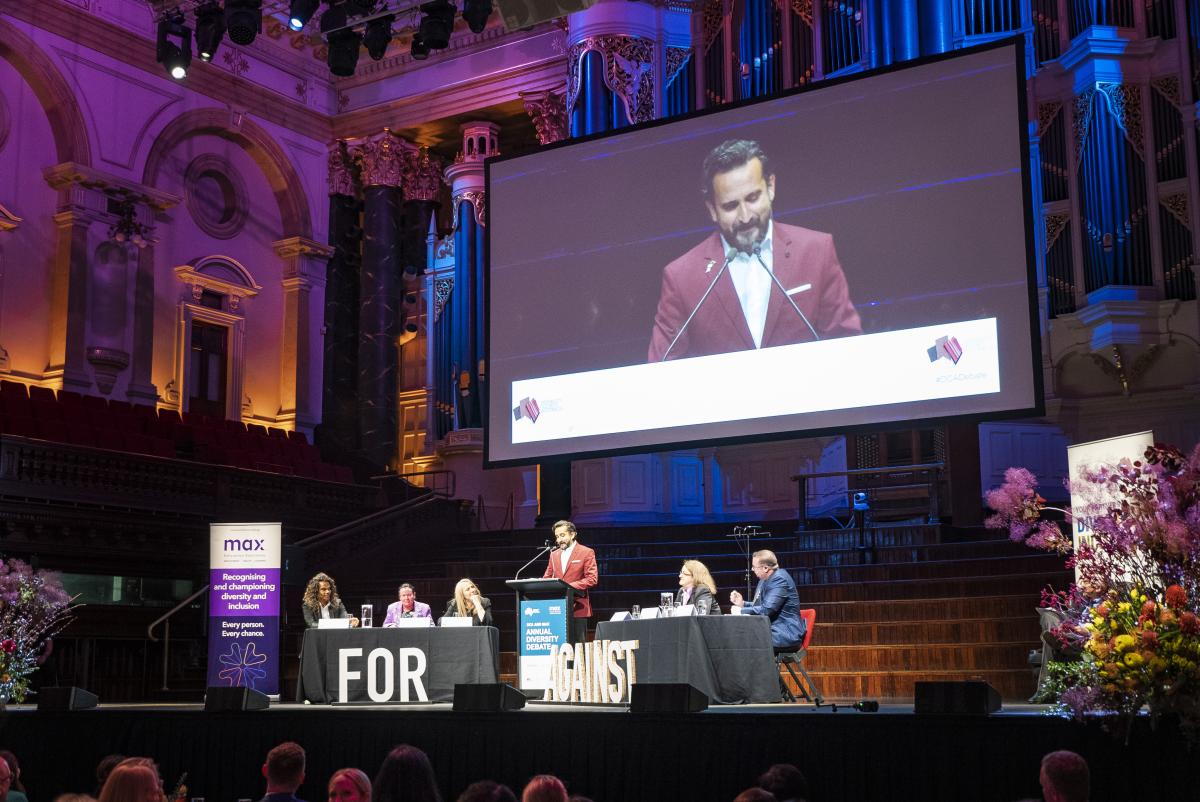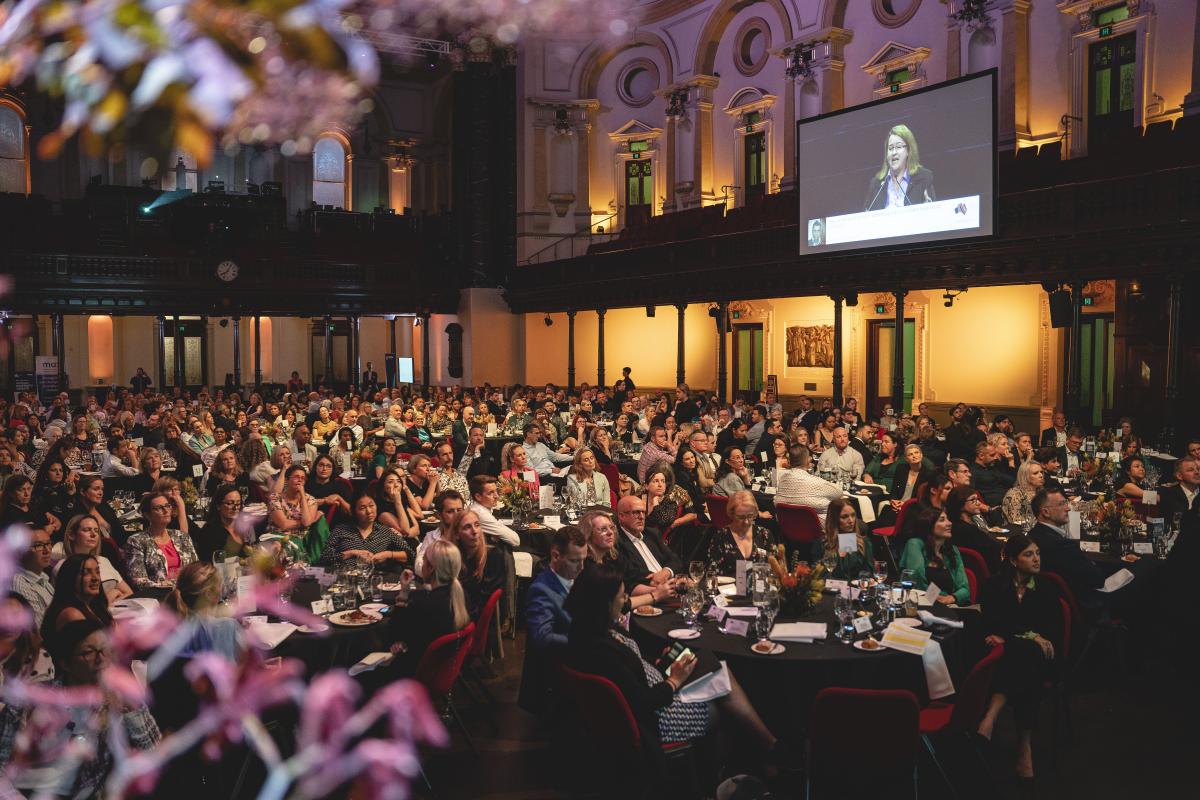 Lisa Annese, DCA's CEO said the DCA Debate is a special night on DCA's calendar of D&I events, where we take a critical look at a D&I issue through the format of a debate.
'It's a night where we can unpack D&I issues and explore nuances that are not always included in broader discussions. It is an opportunity for us to reflect on where we have been, what's next and how can we be even more inclusive, because that's good for organisations, it's good for employees and its good our community.'
We sincerely thank the many DCA members and guests who attended the event as well as our sponsors who made it all possible: major sponsor MAX, supporting sponsors Deloitte and Ventia and associate sponsors City of Sydney, Hall & Wilcox and IPA.





DCA Debate photography supplied by Nick Wood.
The rest of this content is restricted to DCA members.
To find out more about joining DCA please see below.
If your organisation has already signed up for membership, this will activate as soon as payment is received.